TICKETS ON SALE NOW!
Tickets may be purchased online, by calling 630.896.6666 or in-person at the Paramount Theatre box office at 23 E. Galena Blvd in Aurora.
It's the end of the week, you've spent the last 5 days working your tail off and you need to start your weekend right. Head out to Aurora with some friends, grab a cold beer and kick back with the Fab 4… or, at least 4 guys who look, sound and act just like Paul, John, George and Ringo. There's a reason Sam Leach, the Beatles' former manager, calls these guys "The Beatles Incarnate!" From that very first song on the Ed Sullivan show to Abbey Road, it's a night of hit after bloody hit from Chicago's very own American English.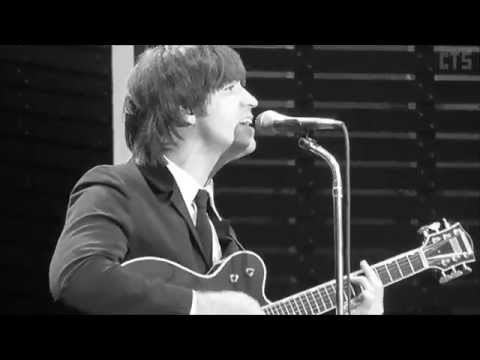 PLEASE NOTE:
For this event, there will be a standing room only section located directly in front of the middle section of the stage with limited bench seating on either side of that area. Bench seating is on a first come, first served basis. No bag chairs are allowed to be set up in this area. The rest of the park is general admission for bag chairs. Bag chairs and blankets are also allowed on the grassy hill. CLICK HERE for map.
Events at RiverEdge Park will take place rain or shine. In the event of a cancellation due to weather, a credit in the amount of the face value of your ticket will be issued to your customer account. The credit may be used towards a future ticket purchase for performances at RiverEdge Park or Paramount Theatre. No refunds will be issued.
CLICK HERE to read the RiverEdge Park policies, including the new food and cooler policy.
FOOD VENDORS FOR THIS EVENT  Aurora Noon Lions Club, Genoa, Hawthorne, Señor Taco and Taco Grill & Salsa Bar